Book chapter
Configuration and reconfiguration : The Xerox Case
in Prime Movers: Define Your Business or Have Someone Define it Against You
Published by Wiley 2000 | In anglais
ISBN: 978-0471899440
Issus de la même oeuvre
Suggestions
Du même auteur
Des ressources ou des hommes ? : l'antibible des RH / Fabienne Autier, Marie-Rachel Jacob, Mar Pérezts
- 2e édition - Pearson 2016 - 1 vol. (X-224 p.) ; tabl., graph., couv. ill. en coul. ; 24 cm
Book
La 4e de couv. indique : "Suffit-il de considérer les personnes comme des « ressources » pour déterminer leur place et leur mission au sein d'une entreprise ? Les politiques de gestion des ressources humaines déployées aujourd'hui dans les organisati...
Source : LEARNING HUB COLLECTIONS
Travailler, pour quoi faire ? / Fabienne Autier, Sanjy Ramboatiana
- 4e ed - Gereso Edition 2019 - 147 p.
Book
La 4è de couv. indique : "Le travail : la seule façon de gagner sa vie pour certains ; une source d'enthousiasme, d'épanouissement et de motivation pour d'autres ; un synonyme de souffrance et de désarroi pour ceux qui en sont privés. Et vous, quelle...
Source : LEARNING HUB COLLECTIONS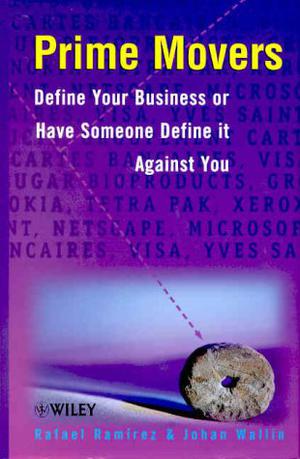 Prime Movers : Define Your Business or Have Someone Define It Against You
Ramirez, Rafael - John Wiley & Sons 2001
Ebook
This book deals with the frameworks between customers and suppliers. These frameworks link a customer's own value creating activities to the competencies and resources of the supplying firm(s). Both the short term (financial) and long term (knowledge...
Source : CYBERLIBRISOAI